All Blogs
What You Need on a Winter Trip?
by Caroline Gray on Dec 06, 2022
The weather is getting colder now, but no matter how windy or snowy, it can't stop the enthusiasm of tourists. Especially in winter, many people plan to find happiness in the ice and snow.
If you wear thick clothes in winter, you will have more luggage should be prepared. So what should we pay attention to when traveling? How to ensure your own health when traveling, and let yourself have fun?
First of all, when we are in the car, we have to stand up and move around properly. In winter, sitting in a car for a long time can easily cause swelling of the legs.
If you are not in good health, it is more likely to cause back pain. So when you go out to play, you must remember not to maintain a posture for a long time, but to do activities from time to time.
We should strengthen safety awareness. Everyone wears thick clothes in winter, but sometimes things will be stolen in pockets without noticing. So we need to pay special attention when we go out to play, and try to put valuables in inner pockets.
Bring enough clothes. The weather in winter is unpredictable. You need to increase or decrease clothes according to the weather forecast. Don't be afraid of trouble. During the travel, if you accidentally catch a cold, it is easy to cause diseases such as colds, and you may also get sick. If you suffer from other diseases, you must pay attention to the work of preventing cold and keeping warm.
Bring some medicine. Because it is difficult to guarantee that you will not get sick during the journey due to weather changes. So you should take medicines at any time and divide them up, so that it will be more convenient during the journey.
Try not to go to inaccessible or undeveloped areas alone to avoid accidents. When you need to climb mountains and ridges, wear sports shoes to avoid sprains. Do not climb rocks, trees, houses or wade in order to enjoy some "unreachable" scenery. Do not enter the deep mountains and old forests casually to prevent being bitten by rats, poisonous insects or other animals.
The air is dry in winter, which is a period of high incidence of infectious diseases. Therefore, we must pay attention to preventing infectious diseases during the journey. Avoid talking to coughing passengers in trains and buses. Wear a mask, ventilate frequently, and protect your skin.
In winter, the road will be icy and the road surface is very slippery. Wearing leather boots is easy to slip and fall. Wear anti-slip cotton shoes. The shoes should be tied high to protect the ankle. It should be larger than normal shoes, so as to give the feet a certain space in the shoes and help to promote blood circulation.
We all know that cell phone battery life is affected by cold weather. During winter travel, for mobile phones, I suggest that you put your mobile phone in the inner pocket, so that your body temperature will keep the mobile phone at a reasonable temperature. Also, it is good advice to take the phone out for a short time before putting it back in the inner pocket. You can do the same with your power bank, but you probably don't have enough pockets. Plus, these power banks can be heavy and bulky, which can interfere with your activities like hiking, climbing, or climbing.
When you go out, you can choose to take an iWALK portable charger for iphone. Because this cute power bank charger is small enough. This iWALK charger can be easily put into a small pocket or backpack. And this iWALK portable charger for iphone has a power display, you can see the percentage of power in detail, and you can use this cute power bank charger with more peace of mind. Although it is small, this iWALK charger supports fast charging. In this way, in the cold winter temperature, the mobile phone can be charged faster than the general power bank.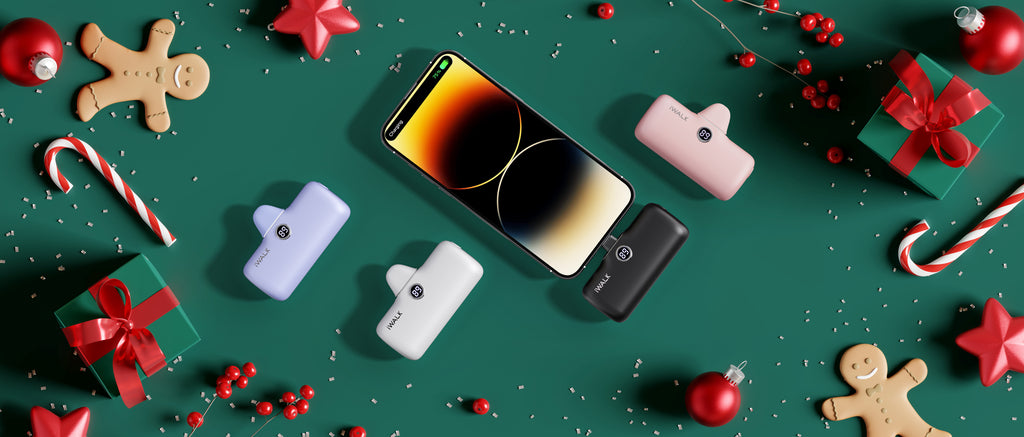 Usually our power bank will be placed at the bottom of the backpack, or even in the outer pocket of the bag. Traveling in sunny weather is fine, but now we have to find a way to keep the power bank from dropping in temperature. This can be done by wrapping iWALK charger inside spare clothing (perhaps a pair of socks), but be sure to keep this iWALK portable charger for iphone away from the outside of the bag.