Product Description
Product reviews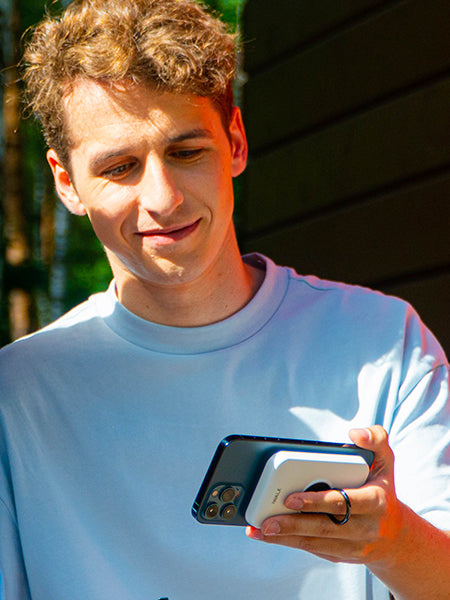 Great magsafe battery pack for the new iPhone 12/13 line
The magnet safely attaches to your phone and feels secure to your phone. No worries of it disconnecting accidentally and detaches with a bit of force. The LCD display is a nice touch has keeps you posted on the remaining charge. Overall, a perfect accessory for new iPhone 12/13 owners.
Apple MagSafe battery pack only has a 2000 mAh capacity, so this 6000 mAh pack is a more powerful pack. works well with iPhone 13/12 series, even with a MagSafe case on. The capacity is generous, it'll recharge iPhone 13 Pro Max 1 times (which means you can go over a week without plugging it in if you're not streaming a whole lot).
It recharge is very quickly, and charges your phone in a decent amount of time. The magnet is pretty strong , and you get a ring finger-holder/stand as a benefit.!
Designed for iPhone 13/12 series
iPhone 14/14 Plus/14 Pro/14 Pro Max/ SE

iPhone 13 Pro Max/13 Pro/13/13 mini
iPhone 12 Pro Max/12 Pro/12/12 mini
You will like it with the ring on it so you can hold and work while charging without fear of dropping it.
Strong hold and durable. LED display is accurate
Input:USB C 18W ,Output:USB C 18W, Wireless Output: 15W Max, Size: 4*2.6*0.8 in ,Weight: 0.36b
Product Capacity: 6000mAh (3.7V/22.2Wh)
It almost gives you a full charge on a 13 pro max.